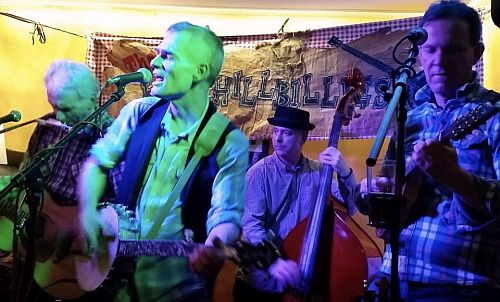 On Friday March 4th 2022, the amazing Kit Hillbillies played at Calstock Arts, at the Old Chapel, Calstock.
A great time was had by all, and a generous collection for the UK Red Cross Ukraine appeal raised £1500.

How to describe the Kit Hillbillies?
Old-timey, good-timey bluegrass!
With rousing vocal harmonies that smuggle in occasional quirky local references.
Instrumental tasting notes: Banjo, fiddle, mandolin, guitar. Irresistibly tappy on the toes, with a crisp percussive finish.
Think Betty Stogs, rather than Harvey's Bristol Cream!
In their words: "We throw in some original bluesy songs with many a knowing nod to the backwoods and badlands of Devon & Cornwall. These *usually* avoid causing offence (happily people don't always listen to the words!). We always do some 20thC classics by the likes of Johnny Cash & Steve Earle. And like Hayseed Dixie we throw in songs by Creedence Clearwater Revival, the Clash and even Radiohead – all delivered in good-time string band style. In short, it's the makings of a rousing, stomping night of tunes."