Welcome to South Hill in Cornwall England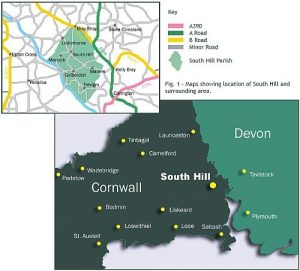 and to our villages and hamlets of Golberdon, Maders, Trevigro, Trewoodloe, Egypt, Mornick, Bray Shop…
If you have recently moved to South Hill, check out our
New Residents page.  It's packed with information that YOU need to know!
What are we all about?
Begun in 2007, the South Hill Connection Website and Newsletter are intended to improve communications within South Hill parish.
Newsletter – we are keen to include your news, stories and pictures of our beautiful parish – please contact our Newsdesk
Local Advertisers – if you have your own business locally, we would be glad to include your details for a nominal fee – please contact us.
Local Clubs, Groups and Organisations, please contact us to publicise your forthcoming events.
Initially funded by a grant from the Cornwall Rural Community Council (CRCC) this site is now maintained by small charges made for advertising.  Most of the input is from the community, whether in terms of time spent editing and designing the website and newsletter, or as contributions from Parish people.
Save
Save
MESSAGES FROM FRIENDS NEAR AND FAR
South Hill Connection Guestbook 

Go on, leave us a message!
(Please note the Guestbook is moderated)