South Hill Rocks.

This is a fun idea which will inspire creativity in all ages and energize people to explore the beautiful area we live in.

On May 29th 2017 at the SHARE Family Fun Day, we painted and hid rocks around the parish. You'll discover them at Golberdon park, around the hall, on the footpaths, at the church and other public places.

When you find a painted rock, take a photo and post on the South Hill FaceBook page https://www.facebook.com/SouthHillParish/ or email SHARE@south-hill.co.uk people can then follow their rocks and see who & where they're found.
Then please hide the rock again, so others can find it.
Be careful to place where the grass cutters won't hit, or where they will be lost or any dangerous place, for children & adults to find them. For safety reasons and to show respect, no rocks will be hidden in Golberdon cemetery. At St Sampson' s church please keep the rocks on the paths and off the graves, again for safety and respect, no rocks to be hidden inside the church.
If you want to paint your own rocks, join in the fun.
HAVE FUN and ENJOY EXPLORING THE AREA
Find some rocks and painting supplies and get creative! This is surprisingly fun for ALL ages young and older. On your artwork write, South Hill Parish "Rocks" FB, so we can follow. You can also # your name or group. If you have NO painting skills, no worries, have fun with your rocks and seal, use your imagination with glitter and nail varnish!
We would love you to post pictures of your painted rocks before you hide them, and when you find them, you can participate anonymously if you prefer, by emailing SHARE@south-hill.co.uk. If you find a painted South Hill Rock re-hide it for someone else to find.
The goal is to get lots of people across our community painting so that there are lots of rocks to be found out there. You may rediscover parts of our area you haven't appreciated in a while. Get out and ENJOY yourself! and share the South Hill FB and South Hill web site.
The intention simply is to SPREAD SOME JOY
When you paint a rock and place it out of your possession, consider it a gift and let go. You may never see or hear of it again. Do not get upset if the person that finds your rock doesn't know about our project or isn't playing along the way you think they should be. Let it go… the moment you lay it down.
Be careful where you hide your rocks so that they don't cause any damage to property (i.e. Don't hide in the grass where it can damage a lawn mower or hurt someone). If you hide a rock, off the beaten track you may want to take a photo, post to FB or email SHARE and add a hint to where your rock is hidden !
As for finding plain rocks, please be responsible, Don't steal from private property, Don't trespass! Don't pull out of the hedges and cause any destruction, there's plenty around, maybe in your own garden.
Painting rocks tips: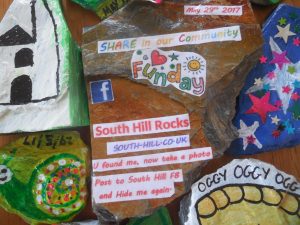 A few tips ! I use regular masonry paints and bright acrylic paints. and write with paint markers or sharpies.
Once you're done painting your rock, seal it before hiding, to protect your art from the elements. I used Heavy Gel Gloss from the Arts Centre, but it didn't work well, so now I'm using YACHT VARNISH from Trewartha's. Make sure paint and ink is dry before sealing, sometimes they may run. Hope this helps, please feel free to share any tips you may have!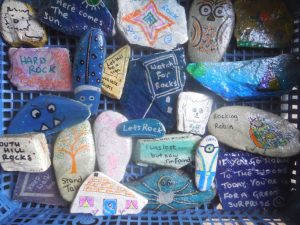 Save