Pigeon Wood Loop about 4.75 miles  7.7km
From Golberdon crossroads, take the Callington road to Maders, be watchful for traffic, especially where narrow. Pass the notice board in the layby and keep going. Leaving Maders you pass the entrance to Woodland Farm then a lane before you reach Woodland Lodge where you enter the driveway, (the footpath signpost is missing). Before the drive turns, by a large tree, go left on the path to a hedge and scramble over into a track. Follow the track around to the right, through 2 metal gates, across a grass field, (there maybe stock here), go through the left gate, lift the rope over the post, into another grass field. Keep the hedge on your right and follow around to a small wood gate, pass through here and continue down to another small wood gate and down steps onto a track.
Turn left and continue along the track, over a sleeper bridge and pass through a metal gate. Pass the chickens, you'll come to Bearland cottage on your right, continue along the driveway to Bearland Bridge. Note the South Hill boundary stone and a way marker stone.
Turn left and immediately right down the driveway to Haye Mill. Just before the house, turn right through a metal gate into Pigeon Wood. Planted with broadleaf trees in 2017.
Continue following the wire fence, keeping left, to a wood stile. Take care on the stones as it can be wet and muddy here. Follow the path to a small wood gate into a narow lane. Follow this to the road and turn right to Trevigro. (If you were to turn left this would bring you to Caddapit and the water works.)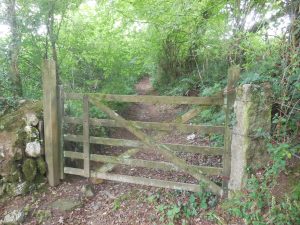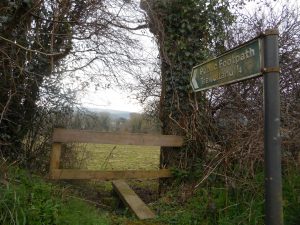 At the junction there is a bench and a footpath signpost to Trewolland. Take this, across the fields to a stile, though the scrub, over a stile, straight across the field and out to the road at Trewolland. Turn right, go to the corner and take the concrete driveway to Trenavin House.
Just pass the house, the footpath continues through the picket fence, but for this walk, turn right up the covered track which brings you out just before Fair View kennels. Turn left and enjoy the views as you continue back to Golberdon crossroads.