Commonwealth War Graves
Some of you will have seen the Commonwealth War Graves Commission sign which has gone up outside St Sampson's church. If you try to find the usual Portland stone headstones you will search in vain.
John Henry Rogers and Aaron Dennis are commemorated in the churchyard not with official war commission memorials but with personal gravestones.  There are no Commonwealth War Graves Commission memorials in St Sampson's churchyard.
John Henry Dennis was Chief Stoker aboard HMS Earnest when he died on Tuesday 8th February 1916, age 39.
Aaron Rogers was a Petty Officer, on HMS Vivid, who died on Thursday February 10th, age 40.
For reasons unknown, neither of these men's names appears on the war memorial in Golberdon.
Their graves can be found in the churchyard next to each other in the row of graves nearest to the road wall.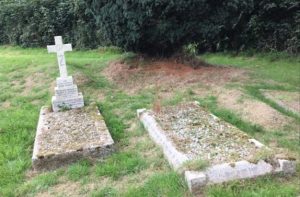 Thank You Miranda Lawrence-Owen for this information.