Third Light A play by local Linkinhorne resident and historian Simon Parker was at The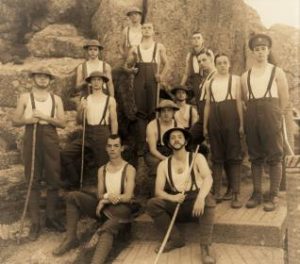 Minack Theatre September 10 -14th.
Amongst the 13 soldier cast, is local lad Thomas Bariball from Polhilsa.
Imagine a Cornish village whose men all came home from the trenches. Imagine a war memorial honouring the living, not the dead. Imagine a place symbolising hope amid horror. Through immersive drama, live brass band and contemporary dance, Third Light tells the unique and moving story of Herodsfoot. A play based on the true story of the thirteen men of Herodsfoot, who went to serve in the First World War and all came home. Conceived and written by local Linkinhorne historian, directed by Nicola Rosewarne, choreographed by Ben Dunks, designed by Meier Williams, produced by Sarah Pym. Performed by an ensemble of professional and community actors and dancers, with music played live by St Pinnock Brass Band led by David Johnson.My grandfathers, Bert Parker and Buzz Marriott, like countless men and boys on the Western Front, suffered untold miseries. Although they both survived, Bert was plagued by the legacy of a gas attack for the rest of his life, while Buzz was injured by a shell. In common with others who willingly enlisted between 1914 – 1918, Bert and Buzz chose not to speak about their ordeal, preferring instead to live a precious life that was so nearly taken from them. Like most of those who took the king's shilling at Herodsfoot, Bert and Buzz were poor men. Third Light is a poor man's story – and while it is largely the story of thirteen men from Herodsfoot, it could be that of millions. As a company, we hope Third Light serves as a tribute to the sacrifice of all the men and woman on both sides, acts as a reminder of the follies of the ruling class, and hopefully also begs the question as to what those same men and women would think of today's hawks who continue to blithely wish us to war. I am grateful to the Medland family of Herodsfoot, and in particular to Bert Medland's daughter Vera, for generously providing information about him and other local men and for kindly giving permission to use his name. However, because Third Light is a drama, not a history lesson, any characteristics or opinions displayed or expressed by the fictional Bert should not be attributed to the real Bert Medland. "My" Buzz wrote a detailed account of his wartime experiences; it was only discovered after his death and it greatly helped to inform this play. For details visit www.scryfa.com  Simon Parker
Set in the only Cornish community whose men all came home from the First World War.
The Thirteen Men of Herodsfoot were: J.Body, C.Honey, J,Bunney, A.Kitt, S.Cross, H.Medland, H.Doney, C.Parker, R. Doney, H.Somerset, W. Turner, W.Hoar, P.Trengrove.
If you have photos, memories to share, we'd love to hear from you. We can collect and scan information. Please email or contact Magda at Berrio Cottage southhillhistorygroup@gmail.com