Roll of Honour Servicemen from South Hill Parish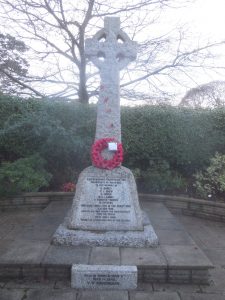 who died in the two world wars 1914-18 and 1939-45
Private John Garfield Doney Aged 21 The London Regiment. Son of William & Martha Doney, Wagmuggle.
Private Thomas Drew Aged 29 The Somerset Light Infantry Son of Mr and Mrs William Drew from Pensilva
Private Percy Jenkin Aged 22 The Duke of Cornwall's Light Infantry. Before enlisting, he lived at Manaton where he worked as a waggonner.
Private William Gordon Landry Aged 24 The Essex Regiment Son of William & Elizabeth Landry, Trevigro.
2nd Lieutenant Herbert Gloyne Forster-Morris Aged 19 The South Wales Borderers Only son of the Reverend Herbert and Mrs Forster-Morris, the Rector of South Hill.
Private William Nicholas Stephens Aged 28 The Duke of Cornwall's Light Infantry Son of Stephen and Harriet Stephens, of Pear Tree Row, Callington.
Sapper Vernon William Buckingham Aged 21 The Royal Engineers Uncle of Jill Reynolds & Shirley Shears.
Also remembered from this parish, but not named on the war memorial
Able Seaman Stanley Jenkin, brother of Percy Aged 18 Lived at Trewassick where he looked after the cattle. Read more here.
John Henry Dennis Chief Stoker aboard HMS Earnest died aged 39
and
Aaron Rogers Petty Officer on HMS Vivid died aged 40, both are buried in South Hill churchyard. Their graves can be found next to each other in the row of graves nearest to the road wall.