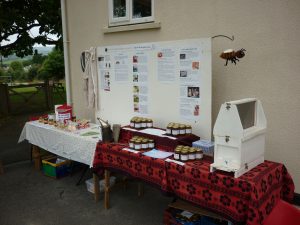 Lots happening at the Horticultural Show this year, inside and out and down at the river…..
For the first time the Kit Hill group of the Cornwall Beekeepers Association had a stand at the Golberdon Horticultural Show on the 18th August. The display included bee identification, plants for bees and honey tasting. Geoff and Mary Hardman, (Chair and Secretary of Kit Hill CBKA respectively) cajoled passers-by to try honeys of six distinct flavours – all dependent on what the bees had foraged for. Dale Wood brought along his observation hive which proved very popular with visitors trying to spot the queen.  Kit Hill Beekeepers can be contacted via the secretary Mary Hardman at m.a.hardman@btinternet.comOn Saturday 18th August the 59th South Hill Horticultural Show was held at the Parish Hall. The hall was full of entries from cooking to floral art and vegetables to paintings. Although entries were slightly down from previous years the standard was still incredibly high and the judges all commented on what a lovely friendly show we have with a great selection of classes. We also had a good number of new entrants this year. We would like to thank all the committee members, officers and friends of the show for their help in running and organising the event.
The Callington Young Farmers also had a dog show running in the playing field which seemed to be a good success. Alongside this we had some stall holders under the awning and our usual cream teas available for all to enjoy. We really appreciate all the support we receive and would ask long may it continue…
Next year is our Golden 60 years! The show will be held on Saturday 17th August 2019 and we are hoping to make it bigger and better than ever. Save the date! Let's keep this great community event going for future decades! To make this happen we do however need even more help and support. We are looking for any stall holders, organisations, clubs and groups to join us next show day. If you are interested please get in touch with a committee member or officer.
To keep up to date with any fundraising events, schedule releases and information please find us on Facebook; South Hill Horticultural Show. https://www.facebook.com/southhillshow/   Lucy Penney (Joint Secretary)