SHARE AGM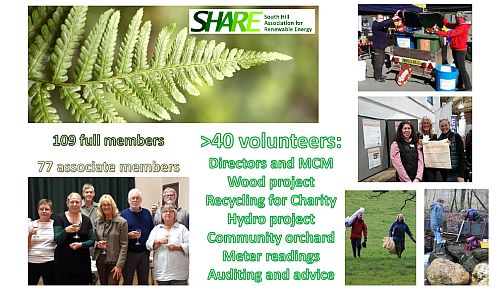 Our AGM on September 22nd was well attended, firstly at an informal "board report" session outside the Parish Hall, to show what we do and progress made during the past year.  The second, more formal part of the meeting was conducted inside the Hall, and was rounded off with drinks and snacks so that people could continue to chat.
It was especially good to meet and put names to some new faces. Membership continues to grow and now stands at 109 full members and 77 associate members.
Draft minutes of the meeting are being circulated to members who were present, and will in due course be published on our web page (https://south-hill.co.uk/share/share-member-area/)
Kate would be happy to come and talk to our members about this.  Please contact SHARE@south-hill.co.uk if you'd be interested.
Out And About
We've been thinking about possible visits to places of interest. 
This Devon Wildlife Trust site has been developed from an old clay quarry whose industrial past has produced a fascinating landscape for wildlife today. With 150 hectares of nature reserve we should be able to have a good walk and observe abundant wildlife too.
There may also be an opportunity for us to learn more about methods of farming which are more in tune with the environment – fans of the Archers may have heard talk of "herbal leys" and such like! Example: https://www.facebook.com/LeanneBarriballbiz/videos/1033684474135257
If you have any ideas for SHARE visits, please let us know.
Website: www.south-hill.co.uk/SHARE       email: SHARE@south-hill.co.uk