No, not an ornithological sighting for the twitchers; rather a working party of wellies and waders to install the weir for SHARE's hydro feasibility study.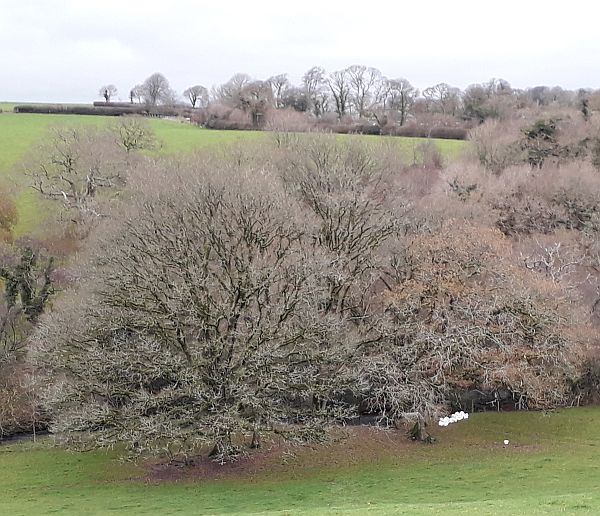 The story so far: thanks to everyone's generosity, we managed to raise all the funds necessary to get construction under way. Some of this started in isolation, but now we're enjoying the luxury of Tier One, with socially distanced teamwork cranked into overdrive.
The supporting structure for the measurement system had already been welded up and anchored to the concrete foundation: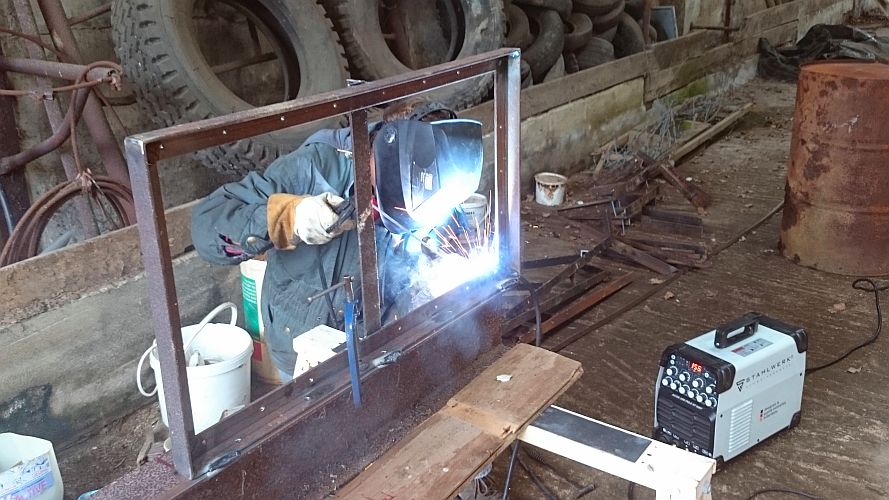 To get an accurate measurement, the computer we're buying needs a well-defined rectangular flow of water over a known cut off level – a bit like one of those "infinity pools" you see on the travel programmes. So a steel chute was designed to form a box section one and a half metres wide to be positioned dead level in the stream; a bit of mega guttering. Graham's Fabrication took shape in his garage in Kelly Bray and was then beached on the river bank. No mean feat – it weighs about 70kg and had to be carried downhill by hand.
The next job was to get this into the river, on top of the support structure, and bolt it down so it's perfectly level. You may have noticed that it's rained just a bit, so the only way to do that is to pick it up and wade upstream. Astrid and I donned our chest waders to take the deep end, whilst Graham and Mike took to the bankside in wellies, with Peter and Luka capturing the event on film. Much lifting, pulling and wiggling later, and we had it balanced and clamped in just the right place. Such was the precision of Graham's Fabrication that all thoughts of trial fits, disassembly and refitting using a gasket went swiftly down the river, (as did some of the woodwork in a high speed Pooh Sticks race). It was tight, in the right place and it was darn well going to stay there! Half an hour's work with a cordless drill, some bolts and a socket set and the structure was permanently attached.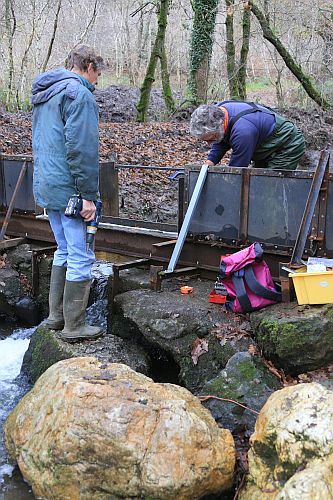 The next step was to shut off the opening in the concrete with a wooden gate, waterproof around it using Damp Proof Membrane weighted down with sandbags and make the whole site secure. As Astrid slotted in the sections of gate, the water level rose by about four inches every thirty seconds. With the rain we've had, Astrid and I went from welly deep to chest deep in about five minutes, with us both being eternally grateful for long legs and long waders. Much repositioning of plastic sheeting and sandbags later, and we had a smooth topped lagoon about four feet deep and a nice even cascade over the weir.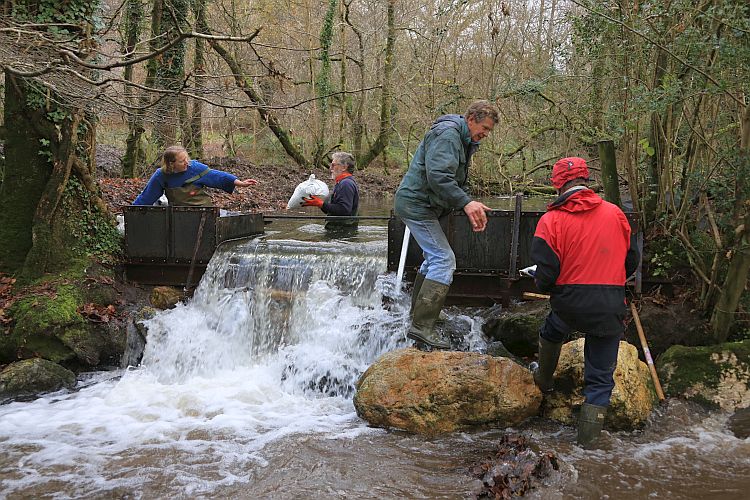 Already we can see that there is a strong flow of water, giving a crest height of around 15 centimetres. That might not sound much, but equates to about 160 litres per second – which for a "head" of 6 metres would be enough energy to power more than a dozen homes. Of course this will vary with the weather, but once we get monitoring the flow automatically, we should be on the way to gathering data for our study. The monitoring station we've ordered is based on the remote weather stations you can see alongside the A30: it's currently under assembly in America and we should receive it on site about a week before Christmas.
My grateful thanks to the Wet Team of Graham Beven, Mike Davies and Astrid Fischer; with bankside support from David Skelton (telehandler), Peter Tulloch and Luka (photography).
Geoff Hardman