Join SHARE on Jan 6th from 7pm at the Parish Hall. Bring your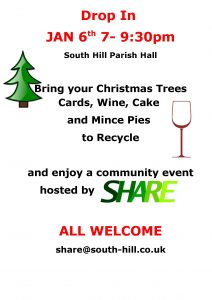 Christmas trees, and cards to recycle, and any drinks and nibbles to share.
Plus we can help reduce waste, reuse and recycle, and support Kicks Count. Kicks Count www.KicksCount.org.uk and facebook group
Kicks Count inform and support pregnant ladies about their unborn babies movements, and help reduce the stillbirth rate within the UK. By RECYCLING not throwing away these items.
Baby food pouches & lids (any brand i.e. Ella's kitchen) and Ella's Kitchen snack wrappers
Flexible plastic cleaning wipe packets
Plastic trigger tops from cleaning spray bottles
Plastic tops from washing up liquid bottles
Plastic air freshener packaging, cartridges and used air fresheners such as plug in refills (any brand – NO GLASS or aerosols)
Plastic biscuit wrappers (sweet, not savoury) including individual wrappers like penguin wrappers. Must be biscuit wrappers, not confectionery
Used stamps (leave at least 1cm backing paper around stamp) both UK and Foreign
Any brand of coffee plastic jar lid, instant coffee refill pouches, coffee bean/filter coffee bags, one cup coffee sachets. Tassimo pods and foil bags (Tassimo only, no cardboard)
We are also collecting plastic Milk Bottle Tops and Ink Cartridges
Recycle collection point at Green Meadows on the South Hill Rd across from Golberdon crossroads or Annies Tea Room on CALLINGTON Fore street.
Plus recycle clothes at the bin located by the Fire Station on South Hill Rd.
Homeleigh Garden Centre, L'Son has a collection point in the top car park for Plant Pots and trays