The Rame Conservation Trust
…… is a buildings preservation charity founded in 1997 which was established to preserve for the benefit of the people of the Rame Peninsula and of the nation at large, the historical, architectural and constructional heritage that exists in and around Maker Heights and the Rame Peninsula.
A Trust with the purpose of conserving and promoting the heritage assets and values at Maker Heights – the natural environmental value, the historical value the aesthetic and communal values.
The Trust owns the Grade 11* listed Barrack Block at Maker Heights, and leases from the Edgcumbe Estate a further 12 hectares which include the Scheduled Ancient Monuments redoubt 1, redoubt 3, redoubt 5 and Grenville Battery. Also the Nissen huts which house the Canteen cafe/restaurant and the camp site which the Trust manages.
The Maker Heights Conservation Management Plan is a collaborative project to explore opportunities for maximising public benefit and enjoyment of the site whilst conserving, enhancing and celebrating its heritage values and securing a sustainable future for the buildings, monuments and landscape.
The Trust has just secured its first Heritage at Risk Repair grant from Historic England. This is for a condition survey, schedule of works, overperspexing and repair of the worst windows in the Barrack Block
Although Maker was originally a military base (from the late 18th century), it is also well known as the school holiday camp established by Nancy Astor and the Virginia House Settlement in the 1920's for 'deprived city children'.
Apart from a brief spell during World War II when it was recommissioned as a military base, it continued as this until its closure in 1987. As a result, thousands of children (mainly from Plymouth) had their first and sometimes only childhood holiday at Maker.
More recently Maker has hosted hundreds of musicians who have played and learned their craft at the venue, thousands of festival-goers (with an annual music festival starting in 1999) and artists who had studios there. There's also been a campsite and facilities for people to hold their wedding.
Regardless of whether they're young or old, regular or occasional visitor, what's become clear through the project is that everyone holds Maker dear to their hearts.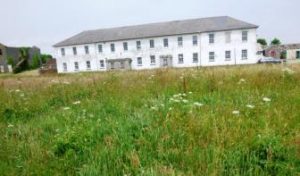 Maker Barracks View of front elevation