A New Vision for St Sampson's
We are developing a new vision for St Sampson's Church and its place in the community in the 21st century. As part of that vision we hope to improve the facilities at the church for wider community use. We are asking as many people as possible for their ideas and comments to help us learn more about what our community needs and how we as a church can help meet those needs. Whether you are a regular member of our church family, an occasional visitor or someone who has never visited the church, we would like to hear from you. St Sampson's church has been part of the life of South Hill for almost seven hundred years as a place of Christian worship and as a focus for the community. It is your parish church; it is there for everyone.
If you would like any more information please contact Judith Ayers judithayers@yahoo.co.uk or Miranda Lawrance-Owen m.lawranceowen@btinternet.com With thanks from all the members of St Sampson's congregation.
Revd. Dr Joe Lannon
Phone 01579 370557
Photo by Jill Long
Sunday Services
11.15 am  (except 4th Sunday in the month at 10.00am)     
Have you always wanted to look round St Sampson's church but never got round to it?  Hopefully we'll be back to normal soon.
There is a wealth of faith and history to be discovered in this place where Christians have worshiped for over a thousand years, where baptisms, weddings and funerals have marked significant moments in people's lives and still continue to do so.  People who visit often comment on how special St Sampson's Church feels.
Miranda Lawrance-Owen 382863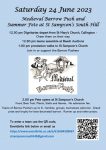 Come and commemorate the route that the people of Callington had to walk to attend church or bury their dead at South Hill, before they were allowed to build their own church in Callington.
Create a barrowful of something you feel passionate about – food, film or favourite anything! Wear Fancy...
Read More »
---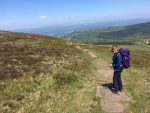 Offa's Dyke – May 17th… Miranda Lawrance-Owen
After six years, the time has come to swap my churchwarden's staff for trekking poles and attempt a long-held ambition to walk the Offa's Dyke Path. Peter and I will be starting from Chepstow on 17th May, carrying our tent and kit, and rambling...
Read More »
---
« Newer Entries
Older Entries »