Have you always wanted to look round St Sampson's church but never got round to it? 
Would you like to spend some quiet moments in our peaceful church?
The church is open everyday during daylight hours. Do come along and experience – it is your church and you are always welcome there.
There is a wealth of faith and history to be discovered in this place where Christians have worshiped for over a thousand years, where baptisms, weddings and funerals have marked significant moments in people's lives and still continue to do so.  People who visit often comment on how special St Sampson's Church feels.
When you visit please sign the visitors book, it's always great to hear people's comments.
Miranda Lawrance-Owen 382863
A New Vision for St Sampson's
We are developing a new vision for St Sampson's Church and its place in the community in the 21st century.  As part of that vision we hope to improve the facilities at the church for wider community use. We are asking as many people as possible for their ideas and comments to help us learn more about what our community needs and how we as a church can help meet those needs.  Whether you are a regular member of our church family, an occasional visitor or someone who has never visited the church, we would like to hear from you.  St Sampson's church has been part of the life of South Hill for almost seven hundred years as a place of Christian worship and as a focus for the community. It is your parish church; it is there for everyone.  To find out people's views we have created an online survey and we would be very grateful if you would complete it using the link on our website at www.callingtoncluster.org.uk or by going direct to https://southhillchurch.typeform.com/to/JrCfpl . A paper copy of the survey is also available and we hope to visit every household in the parish in the next few weeks to explain more about the project and deliver a copy of the survey for those unable to complete the online version.
If you would like any more information please contact Judith Ayers judithayers@yahoo.co.uk or Miranda Lawrance-Owen m.lawranceowen@btinternet.com
With thanks from all the members of St Sampson's congregation.
Church News
News items concerning St Sampson's, and a monthly update from the Vicar
Rev. Tony Stephens
At this time of year the Church has two festivals – Ascension and Pentecost. Pentecost is the better known of the two, although it is also known as Whitsun. What is now known as the Spring, or late May, Bank Holiday used to be known as Whit Monday as it...
Read More »
---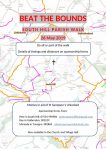 Beat the Bounds sponsored walk 26th May. Start at St Sampson's Church at 10am for a short service followed by refreshments and begin walking at 10.45am
...

Read More »
---
« Newer Entries
Older Entries »