Time to clear out your shed or loft?
Don't skip it, Your junk might be someone else's treasure and it could raise much needed funds for St Sampson's Unlocked Project. Beech Auctions have kindly agreed to sell items in aid of St Sampson's Church. This will all help towards making the Church, warm, dry and draught-free with a toilet and kitchen facility. All you have to do is take your items to Beech auctions (see their web site for details of when http://www.beechauctions.co.uk) and tell them it is for St Sampson's. Or give me a ring or e mail and if it is not too big I will collect it.
Judith Ayers – 07748773416 – judithayers@yahoo.co.uk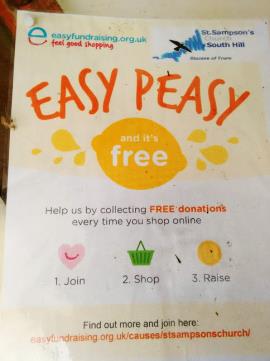 St Sampson's Unlocked Vintage Fete – Tombola
Saturday 15th June 2019
Are you able to donate a prize for the Tombola Stall please?
Prizes required– from shampoo to champagne, preserves to prosecco. Donations gratefully received – food items such as cans of soup, sauces, noodles, pasta, etc. also small gifts.
Please drop off any donations to:
Sue Tunnicliffe at Windmills, South Hill (leave in porch) tel: 07493 88455
Or Marilyn Tasker at Lambertswell, Golberdon tel: 01579 382849
OR inside St Sampson's Church porch