To receive our bi-monthly newsletter and updates, email or contact us (01579 383620) with your details. Free printed copies are available from the church porch at South Hill and outside the Parish Hall at the crossroads in Golberdon, by the defibrillator.
You have chosen to live amongst us in this quiet corner of Cornwall, well that is until the neighbours crank up the music. Best thing to do in this instance is pop round with a bag of sugar and introduce yourself, don't mind the dogs they're all friendly here. IF YOU survive that, please take a look at our parish newsletter, you can pick up WIFI at Callington Library or at the local pubs. Sorry no pubs in this parish.
The South Hill Connection to give it the correct name, has details of local events, clubs and groups that meet at the hall and the church and general goings on. Plus lists our advertisers of local businesses and tradesmen that can offer free advice and refer others.  We also have a South Hill Facebook page and keep an eye open for posters on the notice boards dotted around the parish.
South Hill is centrally located between the shopping towns of Liskeard, Launceston, Saltash and Tavistock and the closest town of Callington where you can find all your essential shopping needs. Trewartha Gregory and Doidge traditional General Store on Church Street, sell just about everything apart from food and offer helpful advice.
Take a look at events nearby by checking out these web sites: Callington, St Ive & Pensilva, Stoke Climsland, Kelly Bray, Linkinhorne.
Your nearest Doctors Surgery is:
Tamar Valley Health Centre. Haye Road, Callington PL17 7AW You will need to register Ph. 01579 382666
Alternatively Pensilva Health Centre School Road, Pensilva, Liskeard, PL14 5RP Ph. 01579 362249
Main hospital is Derriford at Crownhill, Plymouth 13 miles PL6 8DH 01752 202082
Community hospitals:  at Clemo Rd. Liskeard 6 miles, PL14 3XD 01579 373500
Launceston Hospital Link Rd. 71/2 miles PL15 9JD 01566 761000
Veterinary Services: Remember to update your pets micro-chip details.
Calweton 79 Tavistock Rd. Callington PL17 7RD 01579 383231
Castle Pennygillam Way Launceston 01566 772211
Glebe Lezant, Launceston 01579 371295
Luxstowe Liskeard 01579 342120
Your nearest Post Office is at Kelly Bray. Park on Redmoor Rd and run round the corner to 133 Launceston Rd. PL17 8DU 01579 382212.
Alternatively Callington in the Spar store at the top of Church Street on the junction of Fore Street, opposite the Bulls Head pub. PL17 7AD 01579 388757
OR Pensilva in the Millennium Centre OR at Stoke Climsland shop.
Library Coronation Road. Callington. Attached to the Community College PL17 7DR
From the 1st April 2019 Opening hours are:  Monday: Closed – Tuesday: 1:00pm – 5:00pm –  Wednesday: Closed – Thursday: 1:00pm – 5.00pm – Friday: 9:00am – 1:00pm – Saturday:        10:00am – 1:00pm.  Offers internet access via their computers, photocopying service &books.

Further information about library and Information Services can be found at:  www.cornwall.gov.uk/library
One Stop Shop, now Cornwall Council Information Service at Callington Town Hall, offers advice on council services, free access via phone or computer and mail drop off. Plus lots of other information available here.
Newsagents: Phil's paper shop. 1 New Road, Callington, by the bus stop.
Newspaper delivery: Phil Veal delivers daily phone 07980 296 003
Education: Children from the parish attend a number of Schools in the area. Primary Schools at Callington, Pensilva, Upton Cross, Stoke Climsland, Menheniott, plus Launceston College, Callington College , Duchy College
Recycling & Waste
Refuse is collected weekly … Most of the parish is collected on Thursday but not all, check on the Cornwall Council web site that has loads of other useful information. Recycling of glass, cans, plastic bottles, pots & trays, paper & cardboard is fortnightly. You can order recycling boxes and bags on line as well. There are recycling skips in Callington at the Tesco store on Tavistock Rd and a clothing/textiles yellow bin at the Fire Station on South Hill Rd. Recycling centres are at Tamar View Industrial Estate, Saltash. PL12 6UA and Pennygillam Industrial Estate, Launceston. PL15 7PH. We also Recycle for Charity empty crisp packets, used toothpaste tubes etc for Terracycle www.south-hill.co.uk/charity-recycling
There is an Auction House at Beech Park on South Hill Rd. Callington and St Lukes Hospice and Oxfam have charity shops in Callington.
Fuel deliveries
There is a community oil buying group. It is a free service run by Kim Howat who can give you details 01579 384054 or email w.howat1@btinternet.com
South Hill Association for Renewable Energy Community Group supply firewood Phone David 01579 382397 or email share@south-hill.co.uk
Mole Valley Farmers, Moorswater Ind Est Liskeard PL14 4LN supply wood pellets and lots more… 01579 340034 or 01769 576201
CPL Distribution Station yard, Kelly Bray PL17 8ER collect a range of coal/ fuel products or phone 01579 382822 for free delivery.
Places of worship
St Sampson's Church of England at South Hill. Services every Sunday at 11.15am (except 4th Sundays at 10.00am) plus Special Events in the year.  Rev Joe Lannon, 01579 370557, revjoelannon@gmail.com
Callington has a Roman Catholic Church of Our Lady of Victories, Callington Methodist Church and Mustard Seed Evangelical Church.
If you would like to be involved in community life, there are numerous opportunities from regular events, most revolving around the Parish Hall, like the Harvest Supper, Horticultural Show, Service of Remembrance, FUN Day, or group activities like W.I.
Join a committee such as the Connection that produced this and the newsletter and updates the web site www.south-hill.co.uk
There is also a Parish Council web site and Parish Hall web site
By supporting the businesses, services and voluntary groups here, you can help them prosper. We hope you found this information useful, if you think there are items to include for future new arrivals, please let me know (email events@south-hill.co.uk).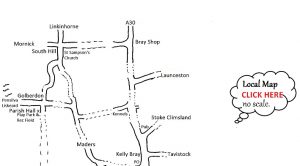 A warm welcome from the Connection Team, feel free to contact us if you have any questions. Astrid Fischer, Secretary, South Hill Connection.
10 Mooreland View, Golberdon
Phone (01579) 383620
email events@south-hill.co.uk
Save