Breaking News!

October 2018

After our hard but unsuccessful work last year for the Power the Night with Sunlight project, SHARE received an email from M&S Energy Community Energy Fund in May 2018, asking if we were still looking to fund our project. We were eager to get the funding in place, but hesitant as we did not want to put our members and local community through another round of voting.  We applied for a total of £8,500, to add to the approximately £1,500 we had already crowdfunded with the Power the Night project, for the installation of a battery storage system and energy efficient lighting for the Parish Hall.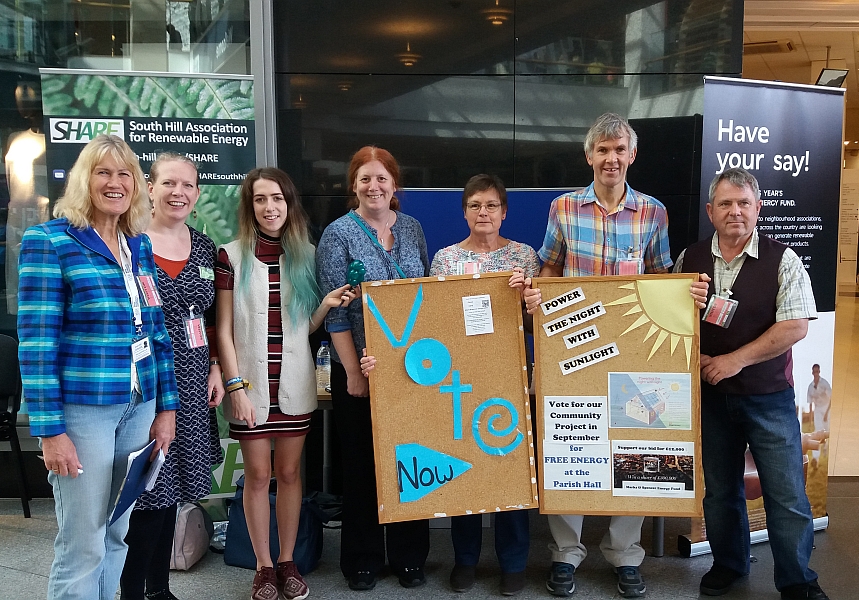 We were pleasantly surprised to receive the news we had been successful, but were asked to keep it confidential until a formal announcement had been made.  Obviously, we worked together with the Parish Hall to get the work done and have had their support throughout.  The conditions of the grant were that the installation should be competed by September 2018, so SHARE worked hard to obtain quotes from suppliers, find relevant LED lighting and perform due diligence on the contractors.
In August 2018 we found that Tesla, our preferred supplier for the battery storage, had supplier issues, and we were doubtful that it could be delivered before the deadline. We therefore then set out to find the best alternative system to work with our solar panels on the roof.  This turned out to be an LG Chem battery. We chose this one as although it will probably not be completely used in the sunny summer months, it will still be charged up to a good extent during the dark winter months, a happy medium. To ensure it can be used for the heating essential during the winter months we chose a system that had a peak discharge rate of at least 3kW (enough to power one of the 6 radiant heaters in the Hall). We also ensured the battery had lithium technology and was warrantied for at least 10,000 cycles.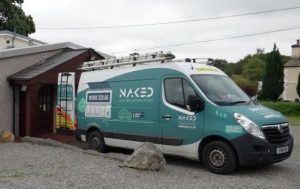 We approached a range of suppliers but decided to go with Naked Solar (a Cornish company), based on the specifications we wanted, delivery date within the required timeframe, and of course price. They had been very helpful from the start, and their web site is a good source of information if you wish to look into getting a battery system yourself: https://nakedsolar.co.uk/storage/
We now have an operating battery storage system in the hall, and you should be able to see the reduction in your energy costs if you use the hall in the upcoming months.  You will only have to top up the meter if you're using more than one of the heaters, or after the battery is drained!  We intend to install a panel display in the near future, so that you can see how much energy is generated by the solar panels, how much is left in the battery, and how much is taken from and given to the National Grid.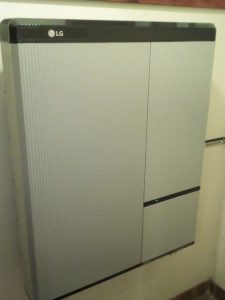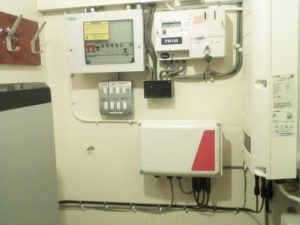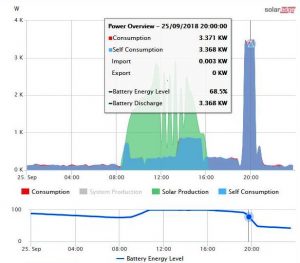 We would like to take this opportunity to thank M&S Energy
Community Energy Fund for their help in making this possible.  This will make a huge difference to our community.  We would also like to thank the many volunteers who have helped us along the way, and the many businesses who supported us to make this possible:
Arundel Arms, Lifton
Blacksmiths Arms, Lamerton
Castle Vets, Launceston
Charlie Bear , Launceston
Cheesewring Pub, Minions
Eagle House , Launceston
Endsleigh Gardens Nursery, Milton Abbot
Liskeard Cycles, Liskeard
Executive Tanning Studio, Liskeard
Fat Frog café, Liskeard
Gilberts Outfitters, Liskeard
Your High Life, Trewoodloe
 Jo Downs Handmade Glass, Launceston
 Kelliwik Café,  Callington
Launceston Golf Club
Lavish Hair & Beauty, Callington
Lifton Hall Hotel, Lifton
Lishe café, Calstock
Maunders, Launceston
Minions Shop & Tea Room
Pasty Stop, Church Street, Callington

Pengelly's  Jewellers, Callington
Pensilva Cars
Plush, Callington
Rachael Budd
Rhys Smith Peach Media
Richard Bennet, Ten Tors Trainer
Rifle Volunteer,  St Ann's Chapel
Smallridges, Kelly Bray
Sprys, Launceston
Swingletree,   Kelly Bray
Tamar Valley Meats, Saltash
The Beauty Arcade, Callington
The Crooked Inn, Trematon
The Kings Head, Five Lanes
The Pixie House, Golberdon
The Royal Inn, HorseBridge
Tree Surfers, Gulworthy
Trevallicks  Farm Shop, Pensilva
YMCA Callington
And any others we might have missed on this list!
Save
Save
Save
Save
Save
Save
Save
Save
Save
Save
Save
Save
Save
Save
Save