The 2018 Winter Olympics, took place in PyeongChang, South Korea, in February 2018.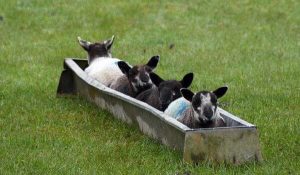 Bobsleigh Team in training!
The world's best winter talent battled it out for a medal and title, in 15 different sports.
Team GB selected 59 athletes from 11 sports, the most that Great Britain have ever taken to an Olympic Winter Games, surpassing the 56 who travelled to Sochi 2014.
Lizzy Yarnold became the most successful ever British Winter Olympic athlete when she defended her skeleton title. She took her place in history in stunning style, winning by 0.45 seconds over the four runs.  Four years previous, she won Team GB's only gold medal of the Sochi 2014 Olympic Winter Games after dominating the women's skeleton from start to finish.Laura Deas claimed skeleton bronze on her Olympic debut joining teammate Yarnold on the podium, the first time Great Britain had won two medals in the same event at a Olympic Winter Games.
Dominic Parsons also competing in Skeleton won an impressive bronze medal.
Izzy Atkin became the first Briton to win an Olympic skiing medal when she claimed a slopestyle bronze.
Billy Morgan competing in the new Olympic event snowboard big air, won Bronze medal pulling off a a front-side 14 triple with mute and tail-grab and was also the flagbearer.
The Curling athletes, unfortunately missed out on medals in the mens and womens events. Bob Sleigh and Luge caught our attention as did short track where Elise Christie dramatically crashed out.
Czech, snowboarder Ester Ledecka won Olympic gold in alpine skiing, AND followed up her success in the super-G with gold in snowboarding's parallel giant slalom. It has been 90 years since anyone claimed gold in two different sports at the same Winter Games. She is the first woman, and only the third athlete, to achieve such dizzying success.
Norway's Marit Bjoergen MAYBE the standout performer at the Winter Games. She turned 38 in March and won gold in the women's cross-country 30-kilometer mass start. Earlier in the Games, she became the most successful Winter Olympian of all time, when she finished third in the team sprint free. Her Olympic medal tally is eight golds and 15 in total. It also brought Norway's total haul at this Games to 39 medals, a record for a single Olympic Winter Games. The 37-year-old skier is the second most successful woman at either the Summer or Winter Games. Soviet gymnast Larisa Latynina has 18 medals.
The Paralympics have shown great successes too.