WE HAVE BEEN SHORTLISTED FOR A GRANT
Voting is finished now.  Thank you to all who voted for us and pledged money for our wonderful rewards.



We will hear on November 6th whether we have been successful with our bid.
South Hill Parish Hall in Golberdon has set its sights on using sunlight
– at night!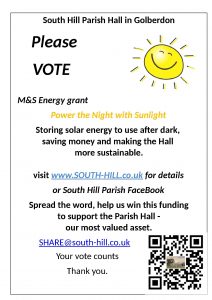 SHARE (South Hill Association for Renewable Energy) community benefit group have applied for an M&S Energy Grant to install a Tesla Power Wall in the Parish Hall at Golberdon.
This will enable the energy generated from the solar panels to be stored for later use and dramatically help with heating and running costs, helping to keep the hall a viable and attractive venue.
Project Leader Astrid Fischer led the committee, with members from SHARE, The Hall Committee and The Parish Council, and would like to thank all those people who put up posters and attended events with our Project Voting Station AND for all the wonderful testimonials from people that have used the hall, helping us to build a strong case for the grant bid.
If we are successful, the grant will cover all the costs of the Tesla Power Wall and we could add other related items, totalling up to an amazing £12,000 ….. so we are immensely grateful to all those who voted and who encouraged their family and friends and work colleagues to vote too.
Our crowdfunding has raised about £1500 (tbc) by asking people to pledge money for some fantastic prizes.
Here are some of our supporters, but again check back here for details and updates.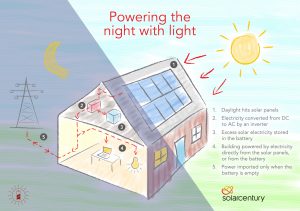 Thank You to
The Fox & Grapes, Lifton
Little Bakehouse, Launceston
The Kings Head, Five Lanes
Ice cream shed, Liskeard Cattle Market
Liskeard Cycles
Executive Tanning Studio, Liskeard
John Smiths Tyres, Callington
Tree Surfers, Gulworthy
Arundell Arms, Lifton
Blacksmiths Arms, Lamerton
Lavish, Callington
The Fat Frog, Liskeard
Smallridges, Kelly Bray
The Pixie House, Golberdon
Ten Tors Trainer
Endsleigh Nursery
High Life suspended tenting
Rachael Budd
Cornish Cycle Hire
Peach Media understanding FaceBook
Launceston Golf Course
MOT Pensilva CARS
Spry's L'Son
Castle Vets
Pengelly's Jewellers Callington
Wayne's Movies & Games, Biscombe Lane
Plush Hair Salon, Fore Street, Callington
The Beauty Arcade, Callington
and there are more coming in MASSIVE THANK YOU to EVERYONE for the support.
Log On NOW to www.mandsenergyfund.com  or visit here for news of our progress. www.South-Hill.co.uk
THANK YOU for your Vote and Support !  Astrid SHARE@south-hill.co.uk   (01579) 383620
Save
Save
Save
Save
Save
Save
Save
Save
Save
Save
Save
Save
Save
Save
Save