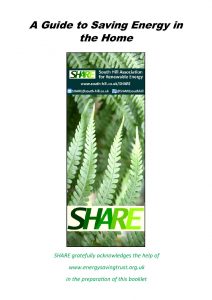 SHARE Energy Booklet – click here…
Brought to you by South Hill Association for Renewable Energy with the Energy Saving Trust, a copy of this booklet has been delivered to every household in South Hill Parish.
Packed with tips and information to help you save energy and money at home, and reduce your Carbon footprint.
For our readers outside the Parish, and for those who prefer to read online, just click on the picture or the link above to download the booklet as a pdf (3.18MB).
To find out more about the Energy Saving Trust please visit their website, here…